Q and A with Siema Organic Farm
"We have always had a passion for wholesome foods. So eating organic and growing organically is a natural progression of this."
Nestled between the Hunua Ranges Regional Park and the Firth of Thames, beautiful Kaiaua is home to a subtropical orchard paradise. Having chosen to leave the city and live a life that is the thing of dreams for most of us, Gemma and Sione run Siema Organic Farm. Raising their children in touch with nature and producing some truly exceptional organic fruit. So what does it take to grow organically and make the switch from city life to running a farm? Read on to find out.
Why have you chosen to be a farmer and for how long have you been farming?
Looking at options to escape city life and move towards living in a more sustainable and holistic way of life, we then discovered Tikapa Moana at the market and it really aligned with what we were looking for.
We were familiar with Bill and Marilyn (the owners at the time) through the Grey Lynn market and Ooooby boxes. Having previously had very little experience of managing an orchard, we jumped at the opportunity to learn everything we could from Bill and Marilyn.
Over the 6 month hand over period our family spent every free weekend on the orchard with Bill and Marilyn who kindly shared their knowledge with us. It was a very special and unique situation for us all and we feel blessed to of had that 'internship' experience with them and we have now been on this land for almost three years.
Why organic / regenerative / biodynamic farming over conventional farming?
We have always had a passion for wholesome foods, so eating organic and growing organically is a natural progression of this. Applying permaculture principles to the work we do is how we farm in the orchard and we work with nature along the way.
We have also introduced some animals into the system, a flock of chickens and welsh harlequin ducks and more recently some lambs.
"I think freshness is the key, we pick to order and this really makes a difference."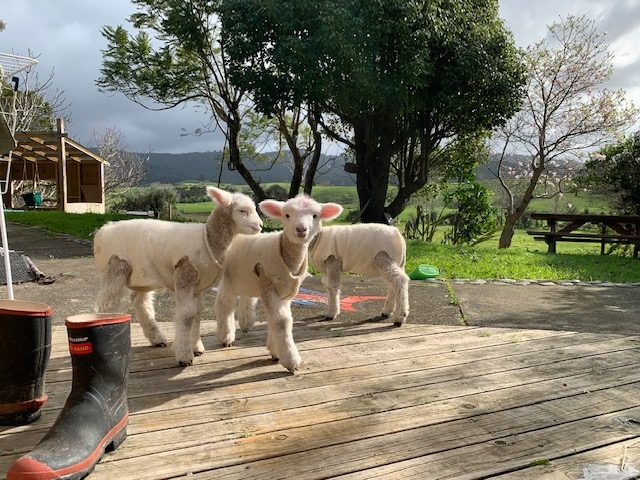 Why do you grow the products you do and what is your favourite produce to grow?
Many of the trees that we currently harvest from are thanks to the previous kaitiaki of the land Bill Brownell. Lucky for us Bill ensured we produced fruit all year round from our subtropical orchard.
We have added in a few extras, like finger limes, lemonades, kefir lime, and expanded the banana grove. So we will be able to supply bananas in the future. Each season brings a new favourite for us and it is incredible watching the orchard shift and change. One moment we are picking an abundance of plums the next we have heaps of figs.
The seasons bring exciting creative opportunities for us. Any surplus gets captured and stored in some way, through dehydrating, pickling, preserving.
What are the biggest challenges you face?
With two children, an orchard, vegetable garden and the animals, we have the day to day challenge of finding enough hours of the day to get everything complete. Then there's the bigger challenges of climate change and food security that are circling around the peripheries of our mind.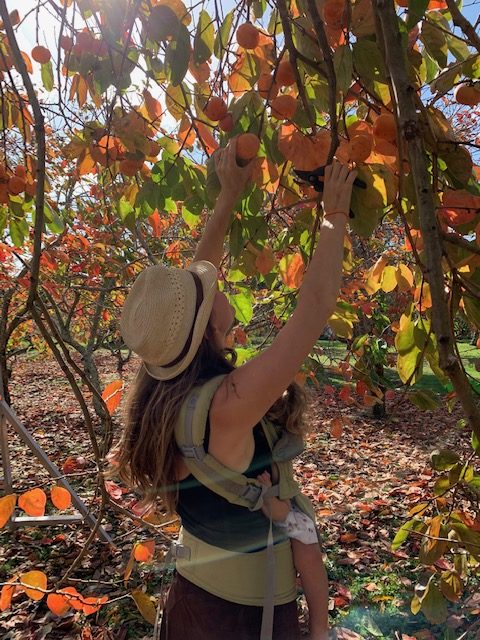 What do you wish consumers knew and appreciated about the food you grow?
I think freshness is the key, we pick to order and this really makes a difference. The taste and nutritional value are at a peak and this, for us, is what food is about.
What effect has working with Ooooby had on you?
Working with Ooooby has been incredible for us. We feel aligned with Ooooby's principles and core mission and that's important.
When Ooooby first opened up in Auckland we were living in the suburbs and we were a customer of Ooooby. Gemma even did some packing and delivery a few times when they were operating from a container in Grey Lynn.
Knowing that we can work with Ooooby and get our produce out to customers. It is a blessing for a small operation like ours.
"We really enjoy being out in the orchard picking"
What is the strangest / toughest thing you have tried to grow?
We have a few unusual and strange fruits growing here. I think buddha hand is the most strange looking.
What is your favourite fruit / veg to eat?
It's hard to say, We often find ourselves saying…."That is the best (fruit) I have ever tasted"
Do you have a funny story / anecdote from your time in the field?
We really enjoy being out in the orchard picking and I think every pick provides an opportunity for laughter. The most recent one that comes to mind is when we were picking casimiroa in the rain.
The long drought was beginning to break and the rain was so heavy. As a result, we were all soaking wet with massive smiles on our faces. The joy was incredible and all of us began dancing in the rain. Except for our woofer and dog, who tried unsuccessfully to hide under a tree. They did not look happy at all.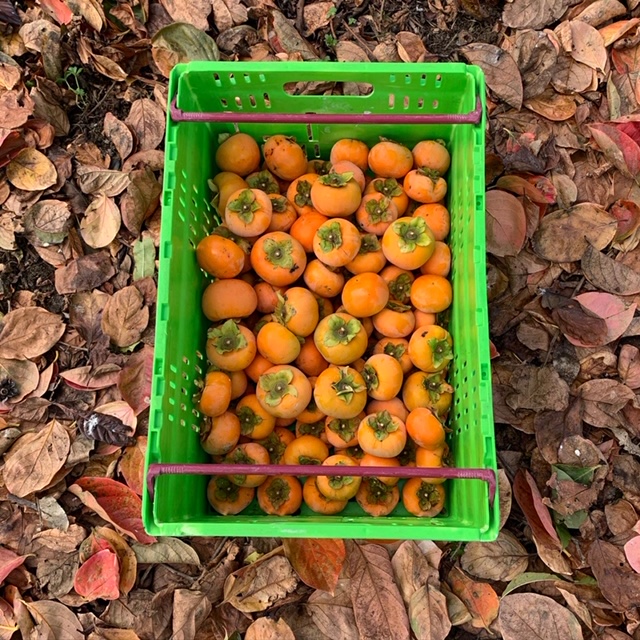 Do you have any particular recipes or ideas for the best use of some of your products?
We have so many and so I will share with you the ones that we are enjoying right now with the produce we have available. Fuerte avocado, limes and grapefruit.
I like to simply juice the grapefruit and have it first thing in the morning. I am sure it helps to keep winter colds at bay.
If you enjoy tempeh I have a great recipe for you – Fried Tempeh with lime and tamari.
Olive oil for frying
Juice of one lime
2 tsp tamari
1 block of tempeh.
Slice the tempeh into strips and fry in the oil on medium heat until golden on both sides. Whilst the tempeh is frying, juice the lime and mix with the tamari.
Once the tempeh is cooked and still in the hot frying pan (heat turned off), pour the lime tamari mixture over the tempeh. Leave to sizzle for a moment.

The tempeh is great on a salad or in a sandwich with Fuerte avocado and lettuce.
To find out more:
Do you want to see which of the delicious organic produce From Siema Organic Farm is currently available through Ooooby? Click here – Siema Organic Farm Produce
You can also see what Siema Organic Farm is up to by visiting their FaceBook page: Siema Organic Farm FaceBook
Visit https://www.ooooby.co.nz to get all your organic food needs delivered to your home and don't forget that all this great produce can help keep you healthy.
Already a fan and want to help us spread the word while also standing the chance to win 1 year of FREE Ooooby produce. Read here to learn more: Ooooby Referral Competition.